Each year I struggle to find something creative and personal to make my kids 3 grandmas. Usually I include a handmade card with a photo of my kids. But this year I decided to use Mother's Day as an excuse to make my first photo-books.
Now I do love scrapbooking, but I hadn't done digital scrapbooking before. I guess I was afraid I'd become addicted to it (I love Photoshop!), and getting 12x12 pages printed is so expensive! Well, instead of doing actualy digital scrapbooking, I used
Picaboo
. It was very much like
Smilebox
, which I love, and use to send photo "postcards" (e-cards) and put together slideshows for my
myspace
page. I really liked
Picaboo
, though, because they allow you to choose whatever background you want, upload your own, or choose from tons that other people have uploaded already. They also have about a million photo layouts, including with and without text boxes. It was very simple, but gave me pretty much any option I wanted for how to make the layout look.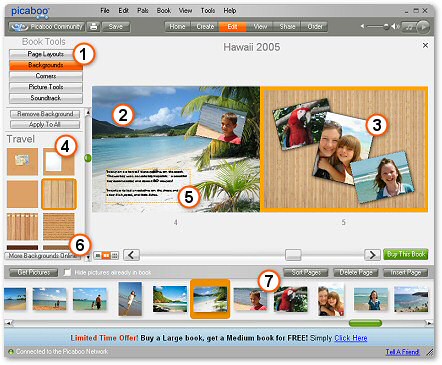 When I had the books made, they weren't very expensive; less than it would have cost me to have individual photos printed and made them into scrapbooks, and I'm not even talking about buying the book to do the scrapbook in!
Now I did hit a glitch when I tried to send them to 3 different addresses. They are only set up to ship to one address per order. BUT, they did have an online chat support person that was able to guide me through what I needed to do, and make my coupon code work, and he even worked a deal for me to help with the shipping costs. So with the coupon code, and the shared shipping, I think I paid about $13 per book, which was the least-expensive one they offered.
But I was so thrilled because all three of them called me, when they each got theirs, and said how cool it was and how much they loved it!
Now I just have to come up with something as equally spiffy for Fathers Day! Hmmmm.....